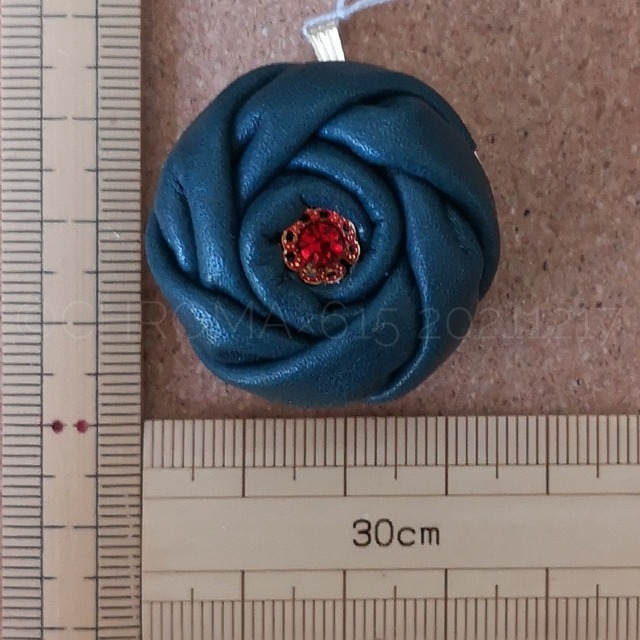 革製のスカーフクリップ(緑に赤)/leather scarf clip
¥9,000 tax included
the last one
革の巻き薔薇つまみ細工のスカーフクリップです。
黒の革で緑の革を挟んでいます。
そのため丸組の帯締めにも使用できます。

台座Φ3.5cmのスカーフクリップを使用。
画像では黒い帽子にベージュの帯締めを巻き、クリップを付けています。
帯留め、スカーフの他、ネックレス用の環も付いていますのでネックレスや帯飾り(根付)にも。

※ご注意ください※
牛皮のため少し重さ、硬さがあります。
クリップは使用中にぶつかると取れることがあります。クリップに細いゴム紐などを通し、帯締めに巻いておくと安心です。
色あせを防ぐため、日光を避けて保管してください。

素材
布:牛革
石:ガラス
クリップ:金属

【領収書について】
発行しておりません。
クレジットカードや携帯電話の利用明細、コンビニや銀行より発行される受領書、振込明細、通帳、購入時に届くメールを合わせて領収書の代わりとしてご利用ください。


Scarf clip with green leather sandwiched between black leather.
A scarf clip with a base Φ3.5cm is used.

In the image, a beige "obijime" is wrapped around a black hat and the clip is attached.
It can also be used as an "obidome", "netsuke", or necklace.

*Please note
The clip may come off if bumped during use. It is safer to put a thin elastic cord through the clip and wrap it around the obi strap.
Store out of sunlight to prevent colour fade-out.

Material
Cloth: cowhide
Clip: metal
glass

──

Material : cowhide, glass
Size : 4×4×3cm

For purchasers from outside Japan
・Shipping from Kanagawa Prefecture, Japan.
・Delivery / EMS
・Payment / PayPal

⚫︎Before purchase
Please check the EMS website to see if it can be shipped from Japan.
*I will check it myself.
*Orders from undeliverable areas will be canceled and refunded.
* Cancellations and refunds are done manually, so it takes time.

⚫︎Cancellation of orders
Cancellation is possible before shipping.
Cancellation is not possible after delivery.
* Cancellations and refunds are done manually, so it takes time.

⚫︎Receipt
Please use PayPal usage details or the email you received when you purchased.

⚫︎Contact us
If you have any questions, please send a message to the PayID(BASE) shopping site via chat.
If that doesn't work, use Instagram DM (@chroma615).

I can't speak a foreign language, so I use a translator.
I'm sorry for the inconvenience.
Add to Like via app
Shipping method / fee

Payment method