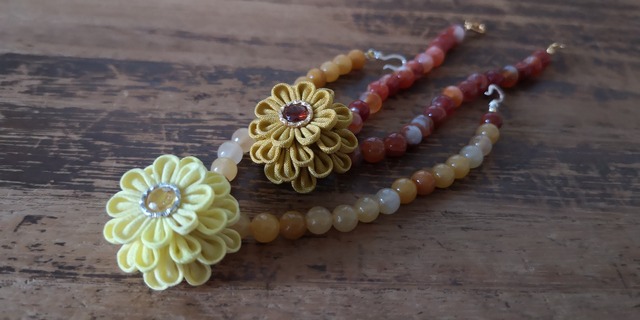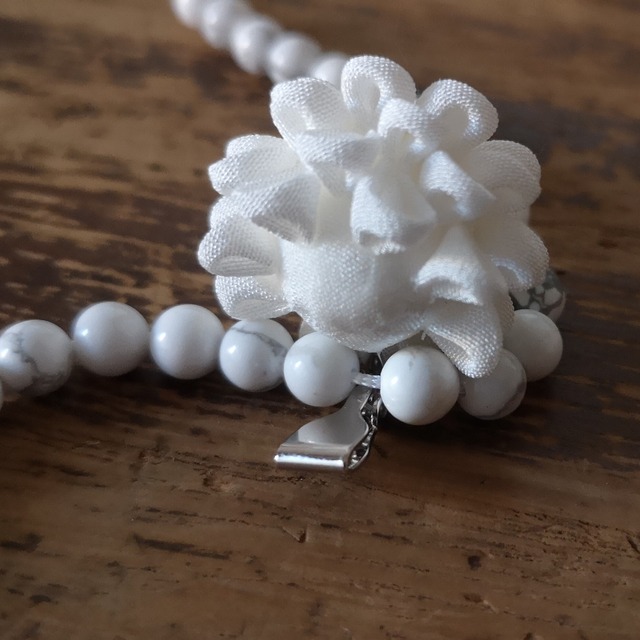 つまみ細工と天然石の羽織紐/Tsumami-zaiku and Natural Stone Haori Cord
SOLD OUT
もともとマスククリップとして販売してしたものを羽織紐の飾りに仕立て直しました。
マスククリップと羽織紐、それぞれ単体でも使用できます。
羽織紐には天然石を使用し、明るい色でも軽すぎず、暗い色でも地味過ぎない、使いやすい色合いです。

現在は横浜元町にある普段着物じざいや様にて委託販売中です。
https://linktr.ee/sakurako_jizaiya
お近くの方はぜひ『じざいや』へ。
遠方の方はご連絡ください。

【素材】
つまみ細工 絹
つまみ細工中央の飾り/天然石
1 人工ジルコニア/赤縞瑪瑙
2 人工ジルコニア/トパーズ
3 人工ジルコニア/ハウライト
4 人工ジルコニア/ハウライト
5 人工ジルコニア/キャンディジェイド
6 人工ジルコニア/印度瑪瑙
7 人工ジルコニア/キャンディジェイド
8 ガラス/赤縞瑪瑙
9 ガラス/印度瑪瑙
10 ガラス/アマゾナイト
11 ガラス/キャンディジェイド
12 ガラス/ソーダライト
13 ガラス/キャンディジェイド

色あせを防ぐため、日光を避けて保管してください。

【領収書について】
発行しておりません。
クレジットカードや携帯電話の利用明細、コンビニや銀行より発行される受領書、振込明細、通帳、購入時に届くメールを合わせて領収書の代わりとしてご利用ください。

──

Material :
Tsumami-zaiku: Silk
Decoration in the centre of tsumami-zaiku / Natural stones
1 Artificial zirconia / red striped agate
2 Artificial zirconia / Topaz
3 Artificial zirconia / Howlite
4 Artificial zirconia / Howlite
5 Candy jade / Zirconia
6 Zirconia / Indo agate
7 Artificial zirconia / Candy jade
8 Glass / red stripe agate
9 Glass / Indo agate
10 Glass / Amazonite
11 Glass / Candy Jade
12 Glass / Sodalite
13 Glass/Candy Jade

For purchasers from outside Japan
・Shipping from Kanagawa Prefecture, Japan.
・Delivery / EMS
・Payment / PayPal

⚫︎Before purchase
Please check the EMS website to see if it can be shipped from Japan.
*I will check it myself.
*Orders from undeliverable areas will be canceled and refunded.
* Cancellations and refunds are done manually, so it takes time.

⚫︎Cancellation of orders
Cancellation is possible before shipping.
Cancellation is not possible after delivery.
* Cancellations and refunds are done manually, so it takes time.

⚫︎Receipt
Please use PayPal usage details or the email you received when you purchased.

⚫︎Contact us
If you have any questions, please send a message to the PayID(BASE) shopping site via chat.
If that doesn't work, use Instagram DM (@chroma615).

I can't speak a foreign language, so I use a translator.
I'm sorry for the inconvenience.
Add to Like via app
Shipping method / fee

Payment method
¥5,000 tax included
SOLD OUT